Where do we begin with this incredible day! When the Pandemic first started closing down things in March, we were unaffected at first since our first wedding was in May and it was still very unsure what the closures would mean for our wedding season. Well, as they reiterated in their toasts: "We plan, God laughs". As the closures kept coming, and more restrictions were put into place, the couple embraced the changes, and worked with their vendors to make the day perfect, no matter how many times it had to be changed!
Their guest list went from 200+ to under 30, which was one of the hardest changes for the couple. However, they set up live streams so grandparents and out of town guests could still celebrate, and toast the couple.  Social Maven, their wedding planner, and event designer helped pull all the incredible vendors together to make the day so special for the couple. When Shanna and Caleb made the decision of lowering their guest count, Syrie from Social Maven suggested uplevel and personalize the guest experience. Shanna and Caleb agreed and that when Syrie worked her creative magic! She brought in specialty cocktails that were unique to the couple, a creative seating assignment display, individual picnic baskets, cushioned seating for the ceremony, and even specialty desserts with a Chicago flair, (where they live).
Shanna has the most incredible style, and we love how she showcased it with her wedding day look! She wore Lola by Lili Hod, which was made of the most beautiful shantung silk, with a front bow and off the should sleeves. She added some fun beaded fringe earrings and finished it with a fun braided updo.
Their ceremony took place outdoors, and instead of traditional seating, they chose velvet and upholstered couches. They tied in these fall colors with blush, and cream flowers throughout. We love that they chose Knox Farms for their venue! This venue is so incredible and has a two-story Mansion on-site and 633 acres of pristine land. It allows couples to have both indoor and outdoor options and really lets guests walk around and explore the beauty. And the sunsets are some of the best we have seen! Guests were seated outdoors, with a tent nearby for dancing.
This couple really embraced the change of plans in such a courageous way and made the best of it the only way they knew how: bringing all of themselves into the day so that it overflowed with love & that magic energy that leaves you buzzing for weeks after.
Are you planning a smaller wedding as a result of the pandemic and looking for a wedding photographer for your day? We'd love to hear from you!
A huge thank you to the incredible vendors that came together to make this day possible: Coordination and Creation: Social Maven Event Planning / Florals: Fern Croft  / Catering: Root Catering / Shanna's Dress: Alice in Ivory – Lihi Hod /  Caleb's Suit:  / Hairstyling: Rachel Rizzo Hair and Makeup / Makeup Artist: Laura Amaya Beauty / Videographer: Olive & Rye Creative / DJ: Gravy Entertainment / Rentals: McCarthy Tents & Events / Furniture Rentals: quaint / Bar Service: Drambox Cocktails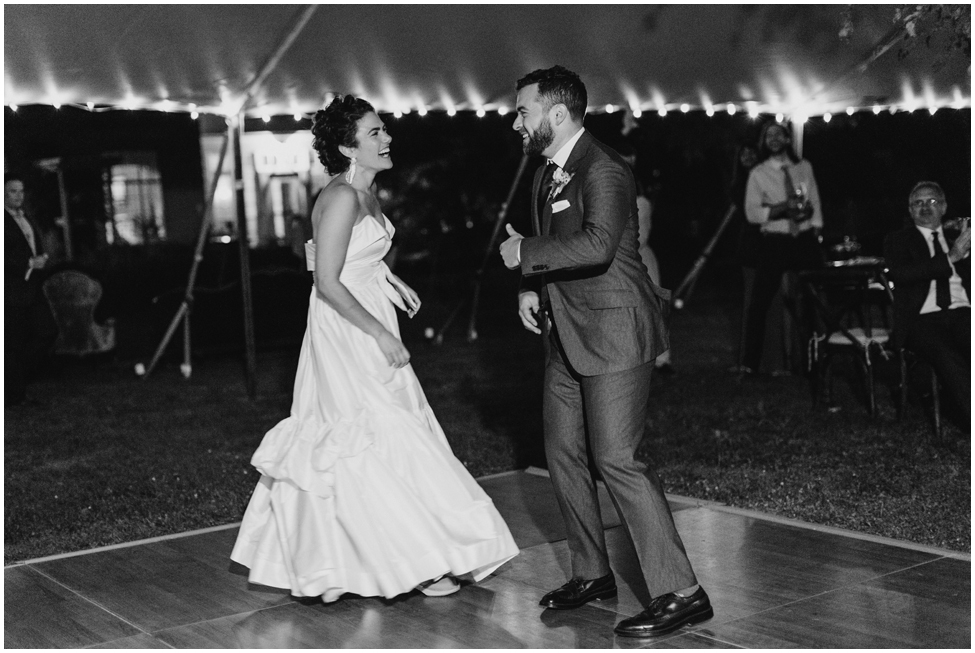 Our 2021 wedding calendar is almost filled up, but we still have a couple of spots left for celebrations! If you're interested in learning more about working with us for your day, we'd love to hear from you!